Posted by Scott P in QB Upgrades/Downgrades, RB Upgrades/Downgrades, TE Upgrades/Downgrades, Upgrades/Downgrades, Week 6 2011, WR Upgrades/Downgrades
No Comments »
By: Dave Stringer — October 11, 2011 @ 7:49 pm
Quarterbacks
Moving Up
Matt Cassel, Chiefs
The good news is that Cassel is heating up as we're going through bye weeks. The bad news is that he's on a bye in Week 6. Rats. Over the last two weeks, Cassel has looked like the player we expected entering the season, solid but far from spectacular. He had his best fantasy game of the year against the Colts, throwing for 257 yards and four touchdowns, one week after throwing for 260 yards and a score against the Vikings. Here's his schedule beginning in Week 7: Raiders (28th ranked pass defense), Chargers (2nd – okay, not so good), Dolphins (27th), Broncos (21st), Patriots (31st), Steelers (1st), Bears (26th), Jets (5th), Packers (29th) and Raiders (28th). That's right through to Fantasy Football Championship Games in Week 16 and it looks pretty darn nice.
Curtis Painter, Colts
Turns out Painter's not quite as clueless as he led us to believe during significant playing time in a pair of games to close out the 2009 season and in most of his preseason contests. With the Colts in desperation mode, Painter has started each of Indianapolis' last two games and looked solid, completing 28 of 59 passes for 558 yards and 4 touchdowns with no interceptions. That's pretty impressive considering the state of the Colts offensive line (they were horrendous during Painter's first start against the Bucs).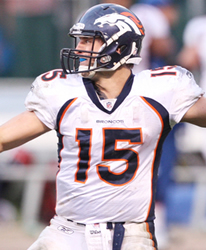 Tebow is likely to give his fantasy owners a wild ride.
Tim Tebow, Broncos
It's Tebow time. Help yourself to what surely will be the one of the most up and down fantasy quarterbacks for the balance of the 2011 season. The Broncos were surely looking to find a reason to insert Tebow into the starting line up and incumbent starter Kyle Orton provided it this week with a dud of a performance against the Charges. The good news is that Tebow is his own goal line back and has seven rushing touchdowns (including one this week) in just 12 career games. The bad news is that it often looks like he's throwing to opposing cornerbacks as much as his own wide receivers. Dig in for a wild ride, folks.
Moving Down
Mark Sanchez, Jets
Frustration. If you own Sanchez in a dynasty league, that's what you're feeling. He's blown hot and cold for much of his career but appeared ready to emerge as an upper tier fantasy backup after three decent outings to start the season where he averaged 25.9 fantasy points per game. Unfortunately, his combined point total over his last two games (Ravens and Patriots) didn't hit 25.9 – try 22.6 including a true Week 4 dud against the Ravens with just 6.3. That one you could excuse him for but just 16.3 fantasy points on 166 yards and a pair of touchdowns against a very poor Patriots secondary is cause for concern.
Running Backs
Moving Up
Jackie Battle, Chiefs
While it's difficult to say with certainty that Battle is a big upgrade over Thomas Jones, he did get a healthy dose of playing time this week and he certainly made the most it. In the first extensive playing time of his career, Battle had 19 carries for 119 yards and two receptions for 21 yards. His 21 touches topped the Chiefs running backs with Thomas Jones getting 12 and Dexter McCluster just five. That doesn't mean Battle has earned the starting position for the balance of the season but it does mean he's earned it for the time being. The Chiefs have a Week 6 bye followed by a stretch of games where they face run defenses ranked 12th or lower until they face the Packers 3rd ranked run defense in Week 15. Lightning in a bottle perhaps? You never know.
Delone Carter and Donald Brown, Colts
Starter Joseph Addai injured his hamstring this week against the Chiefs and initial reports indicate he will miss 1-3 weeks. That opens the door Carter and Brown and if this week is any indication, the Colts will ride the hot hand. Brown had been left for dead but looked like the better back of the two this week with 38 yards on eight carries. Can't say I'd want to have to rely on either one and it's possible this situation will remain muddled until Addai returns. Only for the desperate.
Willis McGahee, Broncos
Okay, enough already. The Broncos have clearly given up on 2009 1st round pick Knowshon Moreno. When you've handed the lead role to the plodding McGahee, what other conclusion can be reached? On the plus side, McGahee has topped 100 yards in three of the past four weeks. Sure, the Broncos are facing soft defenses and they play from behind but McGahee is making the most of the opportunities and it's not like the Broncos are about ready to turn their season around, Tim Tebow or no Tim Tebow.
Jonathan Dwyer, Steelers
With Rashard Mendenhall out with a hamstring injury and replacement starter Isaac Redman suffering from cramps, Dwyer stepped into the fray and showed why Pittsburgh used a 2010 6th round pick to acquire him. Dwyer had easily his best game as a pro, gaining 107 yards on 11 carries and catching a pass for six yards. The Jaguars are on tap in Week 6 and if Mendenhall can't go, Dwyer has likely earned at least 1/3rd of the carries in a split role with Redman.
Moving Down
LaDainian Tomlinson, Jets
After having two solid performances during the first three games of the season, LT has become a forgotten man in New York with just seven touches over the last two games. Looks like the Jets are making a concerted effort to get Shonn Greene going and he posted his best game of the season this week against the Patriots. That doesn't bode well for LT owners.
Knowshon Moreno, Broncos
See above. Relegated to 3rd down duty and nothing more. This week, that meant not one single carry. Ignore the fantasy point total which was padded with a receiving touchdown.
Dexter McCluster, Chiefs
McCluster's touches have gone from 15 to 10 to 5 … hard to be productive without the ball. So much for McCluster being the back to attempt to replace Jamaal Charles' production.
Wide Receivers
For the WRs and all other positions click HERE.
Post a Comment